How to Install New Cool / Hacker Fonts in Kali Linux / BackTrack / Debian
Are you looking to install new cool "HaX0r" fonts on your Linux distro?
My Advice: Don't. Most of the "hacker" fonts out there are illegible and not suitable for the long hours that you might be spending typing on terminals as a penetration tester. But in case you do find a custom font that you want to try, here's how to install it.
Here's how to install a new font in Linux:
Step 1: Download a .ttf font from the Internet. Google it, you will find many. As I have stressed before, avoid "cool hacker" fonts. Look for something comfortable to read.
Step 2.       gnome-font-viewer<font\_location\_on\_drive>

(Notice the illegibility of the font)
Step 3. Install font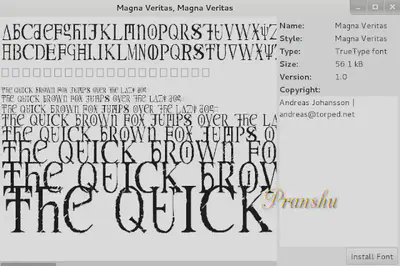 That's it. The new font will now show up in your 'Set Font' option in Terminal 'Preferences' or wherever you need to use it.
Given below are a couple of images of fonts that were too "Kewl" or "Elite" for me to use. I uninstalled them immediately.